Memorandum of agreement between New Acropolis Boston and the Consulate General of El Salvador: Cultural and volunteering projects (USA)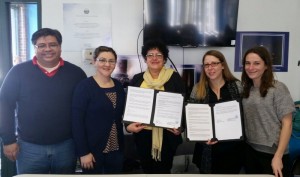 New Acropolis Boston signed a memorandum of agreement with the Consulate General of El Salvador for New England, Boston and Massachusetts. The document was signed by Stephanie Greenish, Director of New Acropolis Boston and Alba Azucena López, Consul General.
This signature launched several collaborative activities between New Acropolis and the Consulate General  of El Salvador including:
– Culture through Books: Reviving the Salvadoran Cultural Identity, project which opened with a talk on the Salvadoran writer Salarrué.
In addition, with the support of New Acropolis El Salvador, an exhibition was mounted displaying the winning photographs of the contest Images for Thought
– Volunteering activities in the public school system of East Boston, such as crafts for children, talks on leadership and collaborating in the organization of the Poetry Competition which the Consulate carries out jointly with Boston University.