Opening of Community Playground (London, UK)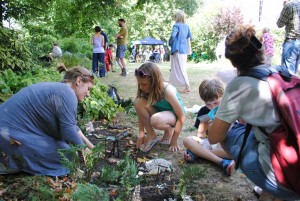 New Acropolis volunteers and friends from the community joined in the opening of a children's woodland playground in the public gardens in front of the New Acropolis Center. As New Acropolis volunteers have been volunteering regularly, we helped to organize an afternoon with plenty of children and families exploring nature and interacting with it in different ways.
Children got involved in building fairy houses, watering plants, planting, running around and listening to some stories. Cakes and drinks were provided and a lovely accordionist added a special atmosphere. People gave a very positive feedback about the event and the neighbourhood celebrated this achievement.
Parallel to this we had launched a story competition months before inspired by the 'Spirit of the Place' and booklets were sold on the day, promoting some creative writing amongst our volunteers.