Theatrical performances and concerts in tribute to World Philosophy Day (Ukraine)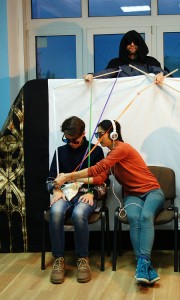 To celebrate World Philosophy Day, New Acropolis Kharkov presented a theatrical representation of Plato's allegory of the cave, followed by a discussion on the essence of freedom.
New Acropolis Odessa carried out a creative experiment around a philosophical text, neoclassical music and a video projection. Some of the texts were Rowing against the Current and The Art of Always Being a Philosopher by Jorge Ángel Livraga, accompanied musically by the Odessa Swannsway group of Odessa.
New Acropolis in Lviv presented a video montage Plato in the Air, as a way to get closer to the teachings of the philosopher in a modern way. The video creation consisted of selected excerpts of cinema masterworks, dedicated to the same ideas posed by Plato.