20th wine tasting event with poem recitals and songs "To Wine and to Love" (Granada, Spain)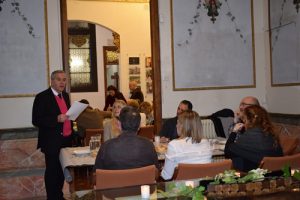 A wine tasting is more an art than a science, since it requires a sensitivity and subtlety in the language which can transmit a fleeting impression in an exciting way. Trying to achieve this goal, the evening began with an explanation of the different wines that participants would have the opportunity of tasting, accompanied by a tasting of different delicious dishes.
And all this with a perfect combination, reciting poems to wine and to love, along with the wonderful music played by a great Brazilian pianist and the warm voice of a singer.