New Acropolis receives a tribute in Brazil for its 60 years (Brasilia, Brazil)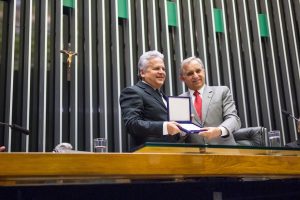 The formal meeting was held on August 11th in the Chamber of Deputies in Brasilia.
The International Organization New Acropolis was honored by the Brazilian Chamber of Deputies for its 60 years of action in the world and for the services rendered in the promotion of philosophy, culture and volunteering.
The recognition by society of the work carried out by New Acropolis in the world was emphasized. "For the meritorious and honorable services offered to the Brazilian people and the dozens of countries where New Acropolis acts, I reiterate the greetings of the Chamber of Deputies to all those who helped to raise the name of this organization to the role of entities that cooperate to make the world a better place to live" said Rodrigo Maia.
Deputy Izalci (DF) presented a plaque to the director of New Acropolis Brazil North, Luís Carlos Marques Fonseca, in homage to all of its members. "It is a great honor for me to render this just and pertinent tribute to New Acropolis, which brings to all of us the hope of better days. With the labor you have done, we can envision a more supportive, loving and respectful future with our fellow citizens" he affirmed.
In his speech, the National Director of New Acropolis Brazil North, Luis Carlos Marques, said that "New Acropolis has resisted time, but not only resisted, it also grew with time, 60 years is a lot!" He highlighted the importance of the test of time: "It is like a diamond: when it has value, it does not break because of time. If we are here until today it is because we have values, we have strength; we have a very strong spirit that moves us".
Luís Carlos recalled the Myth of King Arthur stating that this same spirit was present in the origins of New Acropolis and it remains alive within all the volunteers that have benefited so many people in the world. "Like Arthur, JAL (Jorge Ángel Livraga), in Argentina, was a young man of little more than 20 years old who dreamed of bringing together gentlemen and ladies so that they could in turn bring to their workplaces, homes and schools a little bit of goodness, justice and beauty. He simply wanted to bring together good people and create a strong core that could spread those ideas, those values".
For him, more than for New Acropolis as an institution, this tribute is for "all those who believe that in the heart of the human being there is a seed of Kindness, Justice and Beauty and who are willing, through their example of life, to make these seeds germinate, grow, bloom and give fruits and as fruits, propagate. This tribute is for all the idealists in the world, to the builders of History, because it is thanks to them that we can dream of a new and better world", he concluded.