"Pink Floyd, and its modern day relevance" (Medellin, Colombia)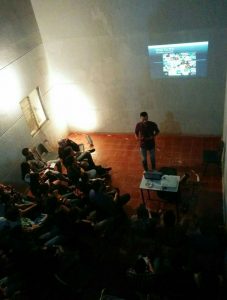 This was the title of one of the lectures offered at the Medellin central branch, an invitation to travel to the 70s to discover, through music, the engines that moved the consciousness of one of the most important rock bands, Pink Floyd; as well as to resonate again with the depth and sensitivity which music can transmit.
The lecture was developed highlighting a common thread with regards to the musical creation of the band, showing the modern day relevance of its music, as we are living in a similar context where human beings are facing realities such as wars, successes, and the struggles of young people.
Although some of the attendees showed up with the idea that a video-concert would be presented at the event, they actively participated in contributing biographical data and exchanging excerpts of the group's popular songs.