The Brazilian Federal Chamber awards Legislative Merit to New Acropolis (Brazil)
On November 30th New Acropolis Brazil received from the Federal Chamber of Deputies the medal for 'Legislative Merit' for its work in the service of society.
This award pays tribute to entities, Brazilian or foreign, that have carried out or are carrying out significant service work for the community.
Palavras do Prof. Luis Carlos Marques, Diretor-Presidente de Nova Acrópole no Brasil Norte, por ocasião da condecoração que celebra o reconhecimento nacional da instituição, em razão dos trabalhos relevantes realizados na sociedade. A "Medalha Mérito Legislativo" é uma homenagem que pode agraciar autoridades, personalidades, instituições ou entidades nacionais e estrangeiras que, em certo momento da história do País, realizaram trabalhos que tiveram repercussão e trouxeram algum amplo beneficio ao povo brasileiro. Trata-se de um reconhecimento do nosso trabalho de valorização da filosofia, cultura e voluntariado, que vem contribuindo, continuamente, para a formação do ser humano e a promoção do diálogo, para além das diferenças. A homenagem reforçou nosso compromisso de continuar trabalhando para fazer florescer o que o ser humano tem de melhor. O evento foi televisionado e transmitido ao vivo via Facebook, e contou com a presença de voluntários da instituição.Parabéns Nova Acrópole e todos os voluntários que tornam esse sonho, de fazer do mundo um lugar melhor, possível!

Posted by Nova Acrópole Brasília – Escola de Filosofia on Mittwoch, 30. November 2016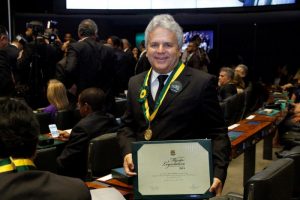 Director Luis Carlos Marques Fonseca receives the medal and diploma of recognition.