Talk: The Quest for Spirituality in Modern Art, (London, United Kingdom)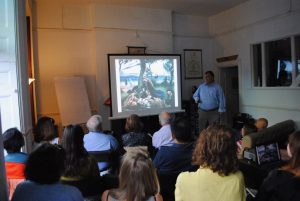 On a summer's evening in the heart of North London, New Acropolis hosted an original talk on the quest for spirituality in modern art.
The talk was given by international speaker Harry Costin, who holds a Master's in Education from Harvard University and is currently researching the relationship between philosophy and art in history.
Illustrated with a host of inspiring quotations from poets and artists and beautiful slides of their works, Mr Costin guided the audience from the ideas of Romantics and Pre-Raphaelites to the colours and geometry of Kandinsky and the surrealistic landscapes and visions of Salvador Dali.
By the end of the talk, members of the audience felt that they had been on an inner journey, similar to that described by Novalis when he wrote: "The mysterious path leads inside. It is within us, and not somewhere else, where we find the eternity of the worlds of past and future."