Gandhi and the Bhagavad Gita (Lyon, France)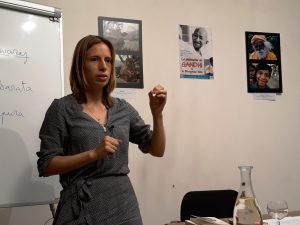 In this year of the 150th birth anniversary of Gandhi, the Center of New Acropolis Lyon organized a second activity in tribute to this great man, after the success of the lecture "Gandhi, warrior of peace" presented by writer and anthropologist Fernand Schwarz in January of this year
(view article https://news.nouvelle-acropole.fr/gandhi-guerrier-de-la-paix/).
Clearly and in depth, the lecture entitled "The Philosophy of Gandhi and the Bhagavad Gita" was moderated by Daniela Molina, teacher and speaker of NA Lyon. It is in the Bhagavad-Gita – a sacred text of ancient India – that Gandhi drew his spiritual ideas and power of action. The philosophical proposal of the Bhagavad Gita is to foster  self-confidence in people and to awaken the peaceful warrior who lives in each person and set out on the path of self-conquest.
On this occasion, the students of the School of Philosophy made space for art; the evening began with a text on Gandhi's message, which they recited accompanied by music. In addition, a photographic exhibition "Into the Eyes of India" was held.