"An afternoon of Joy" at the "Al Parco" nursing home (Verona, Italy)
For twenty-seven years, New Acropolis has offered its solidarity to the "Al Parco" nursing home, in collaboration with Art Dimension, an institution that works in the social action field. Thus, for one more year the volunteers participated in the initiative "An Afternoon of Joy", to celebrate the carnival with the elders of the Center.
The young "Giovanissimi" of New Acropolis, between the ages of 12 and 18, were responsible for organizing and presenting all activities. The smiles of the guests, and their desire to participate in this social event are among the greatest satisfactions.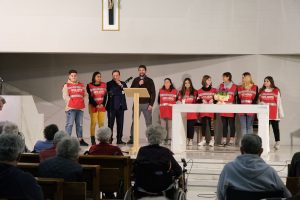 "A unique experience, where I have understood, above all, the importance of teamwork. I really enjoyed helping and having fun with the elders. I want to go back!"
These are the words of one of the girls, after her first participation with New Acropolis.