World Philosophy Day 2020 (Brazil, Northern Division)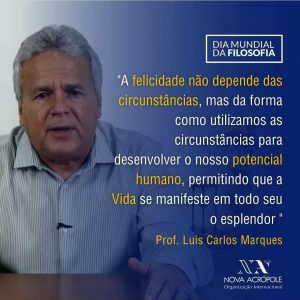 World Philosophy Day is a date instituted by UNESCO, which always takes place on the third Thursday of November. In honor to this special date, New Acropolis Brazil – Northern Division promoted from November 16 to 21 a week of free and beneficent online lectures on its YouTube channel.
The theme this year was "How Philosophy can be useful in times of adversity". To foster this dialogue, great philosophers and great ideas were recalled during the 6 lectures of the week: the Stoic philosophers Seneca, Epictetus and Marcus Aurelius and their thoughts for a simple and happy life even when facing crises; the Chinese sage Confucius and his view on human coexistence; and Pierre Hadot, with practical advice for the art of living.
Closing the reflections of the event, prof. Luis Carlos Marques, national director of the New Acropolis – Northern Division, made important considerations on how to deal with adversities, pointing out that life needs movement to be really alive, and that the movement does not exclude obstacles; we need to learn to always move and learn from any circumstances – that way, we can always be ourselves, our best human potential, and always be happy, regardless of the many situations that may occur around us.
During the week of the event, there were more than 115.000 views of the videos, and with them we collected more than U$ 1.200 (US dollars) in donations for our social assistance program Child for Good (https://criancaparaobem.org.br/)
This and the other lectures are available on the YouTube channel: https://youtu.be/l8DcdaDA2Fc