Concert of traditional Persian music, with poetry by Florbela Espanca (Lisbon, Portugal)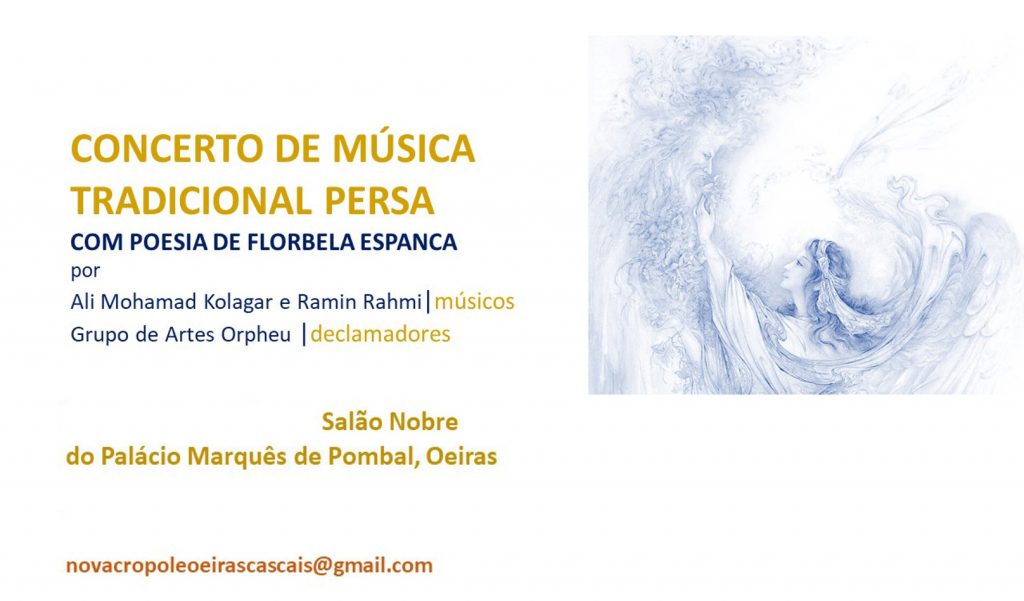 En el Salón Noble del Palacio Marqués de Pombal, en el municipio de Oeiras, se celebró un concierto de música persa, acompañado de un recital de poesía de Florbela Espanca.
It was the perfect combination of the timelessness of Persian music and the poetic rhythm of Florbela, in the setting of the Noble Hall of the Marquês de Pombal Palace, in the historic centre of Oeiras.
The event featured the musicians:
ALI MOHAMAD KOLAGAR, a specialist in TAR and SITAR.
RAMIN RAHMI, who has been playing Persian music since he was 4 years old, especially percussion (TOBAK and DAF).
With special support by the Iranian pianist SHALA DEYHIM and the composer JAIME REIS.
Florbela Espanca's poetry, which focused in this recital on her later poems, published in 2013 by the researcher SEVERINA GONÇALVES, was recited by the ORPHEU ARTS GROUP, whose members are students at the New Acropolis centre in Oeiras-Cascais.
The event was organised by:
New Acropolis Oeiras-Cascais
Vareyna. Luso-Persian Cultural Circle
Friends of the Poets' Park
Orpheu Arts Group
Friends of Florbela Espanca
With the support of:
The Municipal Chamber of Oeiras
Viagens Ulisses travel agency
The Jaime Cortesão History Centre