Initiative to celebrate 300th anniversary of philosopher and spiritual leader Hryhoriy Skovoroda (Vinnytsya, Ukraine)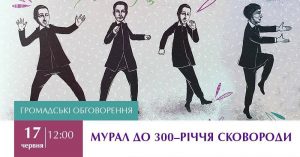 This year Ukraine celebrates the 300th anniversary of the birth of philosopher and spiritual leader Hryhoriy Skovoroda. He is an outstanding figure in Ukrainian history and culture. Volunteers of New Acropolis in Vinnytsya initiated the creation of a mural in his honour.
On June 17, the first public discussions were held, in which representatives of the Vinnytsia City Council, artist Oleksandr Nikityuk, museum workers, journalists, volunteers of New Acropolis, and other active citizens of the city took part.
At the meeting, they decided not to limit themselves to  a mural and drew up a plan to commemorate the philosopher by:
convening artists and holding a thematic exhibition in the Art Museum;
creating a mural dedicated to Skovoroda with the help of the citizens of Vinnytsia;
creating a square with a garden and a park sculpture dedicated to Skovoroda in the future.