New Acropolis continues volunteering (Ukraine)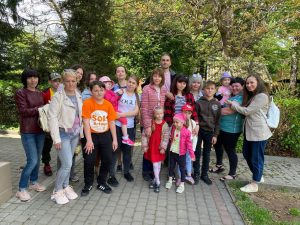 The volunteers have been procuring medicines and bandages for the hospital of the state border guard in Kyiv as well as collecting and distributing things for the residents of the villages of Gorenky and Moshchun in the Kyiv region, which suffered significant damage as a result of the invasion.
Other logistic efforts established the routes to provide humanitarian aid from Czech Republic to Kharkiv, from Lviv to Kyiv and from Dnipro to Kharkiv region.
New Acropolis in Poltava has organised a series of charity concerts.  All the funds raised are for medical and humanitarian aid. 
New Acropolis centre in Vinnytsya has been organising walks for young naturalists displaced by the war.
Many volunteers have been weaving camouflage nets in New Acropolis centres in Kyiv, Dnipro, Lviv and Ivano-Frankivsk.