News from NA volunteer community in different cities of Ukraine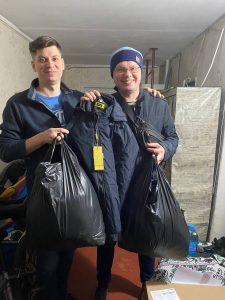 New Acropolis volunteers are busy helping with the provision and distribution of humanitarian aid.
The volunteers of Vinnytsya bought fifty turnstiles and hygiene products, clothes and medicines for the Vinnytsia Military Medical Clinical Centre. They also provided bed linen for shelter at the Rehabilitation Centre "Promin".
The volunteers of Ivano-Frankivsk collected and delivered humanitarian aid to Bucha.
In cooperation with Odesa Ukrainian Greek Catholic Charitable Foundation "Caritas", NA volunteers provide food for people fleeing the war at the train station and pack food parcels.
In Dnipro, the volunteers unpack and sort humanitarian goods at the volunteer headquarters, and take care of animals on the farm "Zelena Pidkova".
New Acropolis centres in Lviv, Vinnytsia, and Ivano-Frankivsk regularly hold first aid training.