Philosophy, an Art of Living: A unique conference on the occasion of World Philosophy Day (Lyon, France)
The third Thursday of November is World Philosophy Day, instituted by UNESCO since 2005 and in which New Acropolis Centres around the world participate every year.
On this occasion, the New Acropolis Centre in Lyon was one of the players in the first edition of the "Night of Philosophy" Festival in the city. The aim was to make philosophy known to a wide public, giving it back the central place it had in antiquity: at the heart of our daily life in society.
For this first edition taking place on Lyon's cultural scene, the festival's flagship event, co-organized by the Cabedita Publishing House, the association New Acropolis Lyon and the magazine Acropolis, took place in a university amphitheater, with an exceptional conference attended by 9 prestigious philosophers.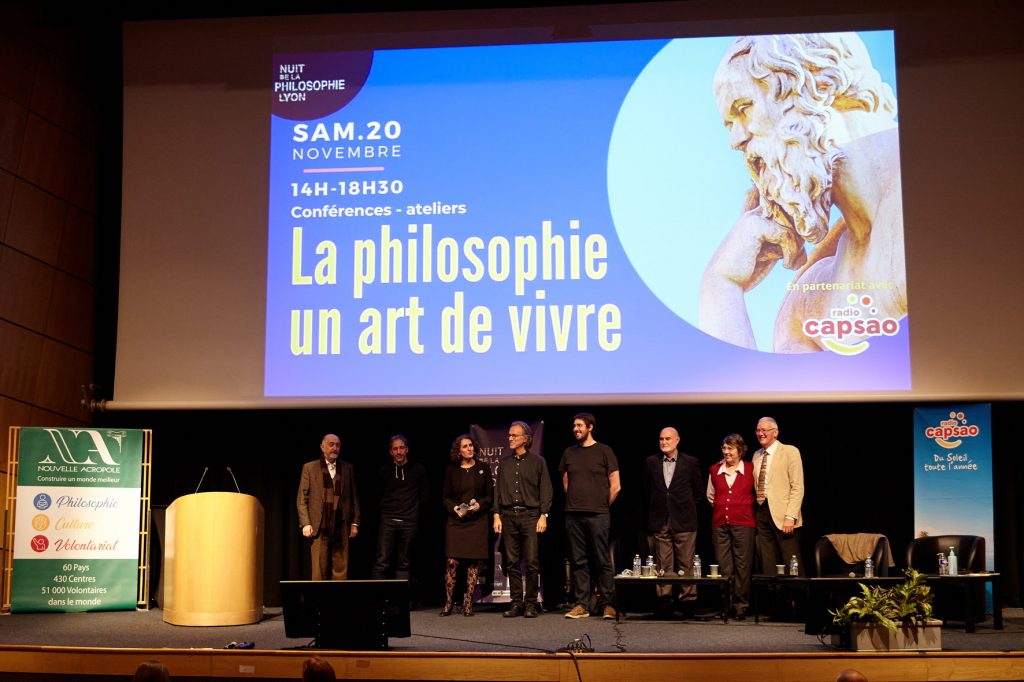 An immersion experience in philosophy as a timeless art of living examined through different aspects: practical philosophy, spiritual exercises, self-transformation, spirituality, moral life, virtue.
Colloquium in an eclectic format, the 9 co-authors of the book "Philosophy, an Art of Living" (Cabedita Editions, April 2021) transmitted their vision of philosophy developed in their chapter of the aforementioned book:
– Xavier Pavie: Can imagination be a contemporary spiritual exercise?
– Maël Goarzin: From theory to practice: living as a stoic today
– Fernand Schwarz: Living our spirituality today
– Laurence Bouchet: Philosophical practice
– Michel Maxime Egger: Joyful moderation as a way out of consumerism
– Laura Winckler, Fernando Figares: Ancient philosophy and spiritual exercises
– Jacqueline Kelen (en video): The noble man's path
– Bertrand Vergely (en video): Siendo la filosofía
A big thank you to Jean-François Buisson, who brilliantly led, as moderator, the presentations and discussions with the speakers.
The success of this afternoon also resided in participatory Master Class-type workshops with the philosophers that offered spaces for a deeper encounter and exchange.
We also take this opportunity to thank all the volunteers who made this high quality event possible!
We hope to see you next year for the 2nd edition of the "Night of Philosophy" Festival in Lyon, on November 17, 2022.