Renovation of a house in Horenka, Bucha district (Kyiv, Ukraine)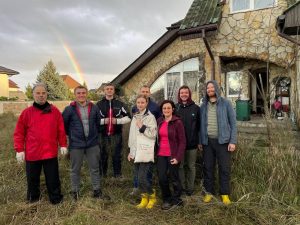 The volunteers of New Acropolis in Kyiv have been helping to renovate the house and dismantle the rubble in the village of Gorenka in the Bucha District.
"The hostess's name is Maryna. Before the war, 39 cats and 3 dogs lived in her house. At the beginning of March, she was forced to evacuate – a bomb flew into the yard. The windows were broken and the roof of the building was damaged. She returned three times to take out all the animals (under artillery shelling!). All the animals were placed in different families in European countries. Now she has returned home, but it is impossible to live here." – told Ilya Molostov, a head of New Acropolis in Kyiv and organizer of the volunteer group.
Over the weekend, volunteers cleaned the interior of the house and covered all broken windows with temporary polyethylene.
The renovation works will go on. The volunteers will help to make her building habitable before the winter season.
Marina dreams of continuing her volunteering of helping animals and plans to further develop her charitable foundation, which she registered before the war.