New Acropolis Celebrates Earth Day with Events Across 7 Cities (Ukraine)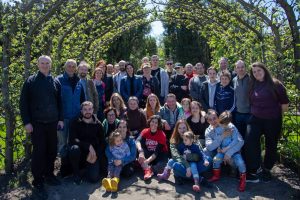 In commemoration of Earth Day, New Acropolis in Ukraine embarked on a series of activities spanning seven cities. These events aimed to raise awareness and promote environmental consciousness among participants.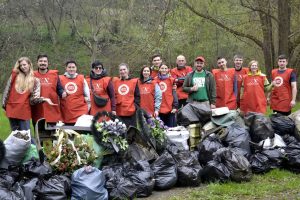 In Lviv, two ecological cleaning activities were organized at the picturesque "Kortumova Gora" park and the Botanical Garden of Lviv National University. The participants also engaged in an eco-talk titled "My Home is the Planet Earth," where they shared experiences on waste sorting and partook in joint activities focused on environmental awareness.
In Vinnytsia, a significant ecological cleaning action took place in the city centre. Alongside the cleaning efforts, a talk titled "Living Planet Earth" was delivered, followed by a discussion on the thought-provoking film "Home."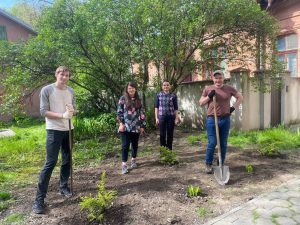 In Ivano-Frankivsk, dedicated volunteers contributed to the improvement of the garden near the architectural monument located on L. Huzar Street, number 9. Their contributions aimed to enhance the aesthetic appeal and environmental quality of the area.
In Poltava and Mykolaiv, volunteers dedicated their time to greening the green areas in the centre of the city. They diligently cleared the spaces of weeds and garbage, while also planting aesthetically pleasing decorative plants such as boxwood bushes, thyme, and roses.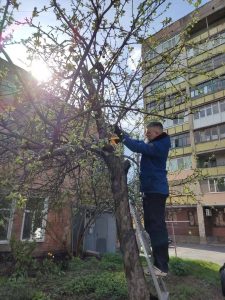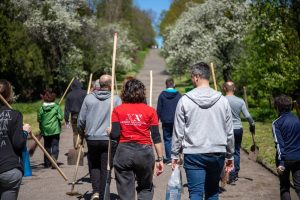 In Kyiv, a dedicated group of volunteers assisted in the care of plants and trees in the Central Botanical Garden, ensuring the preservation and nurturing of the greenery.
Lastly, in Dnipro, a unique event called "book diving" was organized to facilitate a discussion on the book "Walden, or Life in the Woods" and foster ecological thinking among participants.
The Earth Day events organized by New Acropolis across these seven cities demonstrated our commitment to environmental stewardship and encouraged individuals to take an active role in preserving our planet for future generations.