Volunteering with young people – Project Theseus (Pécs, Hungary)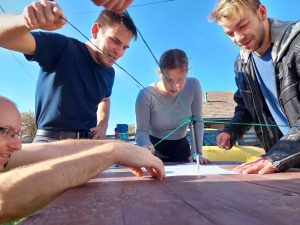 The weekend-long programme was held with the participation of a group of young people in the Pécs Centre of New Acropolis Hungary. There were sessions on philosophy, culture and volunteering, and a social action event was organized, too.
Parting from the myth of Theseus and the Labyrinth, the dialogue centered on the themes of memory, loyalty and courage, related to the hero's two-edged axe and his use of the golden thread in the labyrinth.
The young participants could relate to the values discusses, and stressed the importance of a guiding thread in their lives which gives one strength and inspiration to do good deeds and to act in the benefit of the community.
During the social action the participants helped in the renovation of a Transitional Home for Families in Need in the town of Pécs. They repainted all the doors and conducted singing and playful activities for the children living there.