Winners of the 16th Photography Contest: Images for Thought (El Salvador)
This edition based its content on Actions with Heart and sought to show the work done by different people and causes that strive for a better El Salvador.
Participants had the opportunity to send a maximum of 3 photographs through the web page: imagenesparapensar.acropolis.org.sv
The contest was aimed at both amateur and professional photographers.
The jury selected a display of 25 finalist photographs for the exhibition. The content, as well as the aesthetic value of each entry, were evaluated. During this time, people interested in participating could register for online workshops on creative writing or portrait photography, taught by experts.
The first workshop was given by journalist Michelle Recinos and the second by photographer Roberto Anaya.
The event was held at the David J. Guzmán Museum of Anthropology, and was attended by the jury, finalists and guests. Artistic performances were given by the José Matías Delgado University Choir and Orchestra, Fátima Tobar and Susana Ventura. In addition to a mime show prepared by volunteers from New Acropolis.
The first category awarded was Instagram, whose winner was Emma Karina Martínez Martínez with her photo Ser Felicidad.  The honorable mention went to Josue Benjamín Ayala Quintanilla, with his photo Sembrando alegrías. Third place in the contest went to the photograph called La luz que brinda el amor by Lester Antonio Hernández Martínez. Second place was won by Adriana Paola Leiva Cubias with Pasión por ayudar. The first place winner was Mi mayor satisfacción es que ellos se superen, by Francisco Javier Rubio Cerén.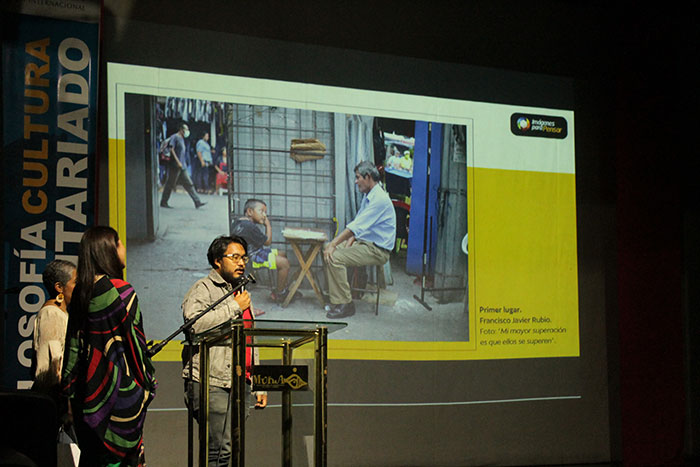 The winners received cash prizes, tours within the country, hours in a professional photography studio and t-shirts. The display of selected photographs was exhibited at Cuscatlán Park.