Tai chi and the search for balance in Buenos Aires (Argentina)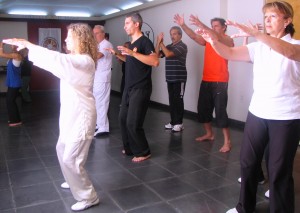 Tai Chi, with more than 400 years of evolution, is a psychophysical technique to restore the balance of energy through gentle and harmonic movements.
Bodhidharma Institute Director, Prof. Adriana Vellegal from New Acropolis in Argentina, gave a seminar entitled "Tai chi and the search for balance."  Prof. Vellegal developed various theoretical concepts: energy, breathing and movements, meditation, warm-up exercises and Chi Kung exercises of the eight brocades (Ba Duan Yin). Balance through movement was also explored through the preliminary form of 10 movements "Djing Wei Tao Lu" Yang Style.
This seminar was useful both for those wishing to improve their technique, and for those coming for the first time to this ancient discipline of human health.