Culture for all: 'Philosophy in the Square' (Tijuca, RJ, Brazil)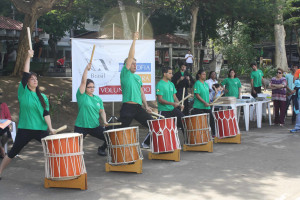 New Acropolis Tijuca offered at the Afonso Pena Square under the title 'Philosophy in the Plaza', art and culture for the approaching public.
There was a presentation of martial arts in the disciplines of Nei Kung and Iai Do, the art of the Japanese sword. Interactive activities included the Wheel of Virtues whereby participants could spin the Wheel and land on an inspiring virtue for the day!
One of the objectives of this and other activities organized by New Acropolis volunteers is to change the erroneous image of a philosophy that is boring and static, completely disconnected from our activities and everyday concerns.