Seminar on how to develop focus, attention and concentration, keys to self-realization (Toronto, Canada)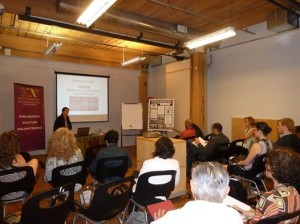 New Acropolis Toronto organized a seminar at the Centre for Social Innovation on how to develop focus,
attention and concentration as tools to live life with direction and depth. Participants were introduced
to a practical philosophical approach to these tools, starting with the idea that, since everything begins
in the mind, it is for each of us to use our mind well.
The training focused on how to calm the personality, begin disciplining the mind and meditate on essential ideas.
When we are able to do this, we benefit by saving time and energy, becoming more effective, remembering things more easily
and being more available to others, among many other things.
Participants were guided through a beautiful Tibetan thanka (painting) representing the different steps of evolution towards self-mastery
and cultivation of the Being.
Many participants came away from the seminar inspired to embark on this path of self-knowledge for a more meaningful and useful existence.