New Acropolis volunteers with United Nations volunteers celebrate International Volunteer Day (Peru)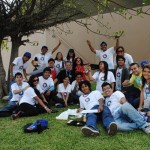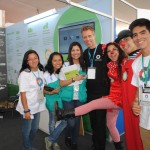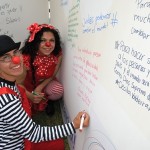 We shared the joy of being volunteers! On International Volunteer Day, New Acropolis volunteers, dressed as friendly clowns, shared the joy of being volunteers and working toward a better world along with United Nations volunteers that made possible the realization of COP20, Conference of the Parties of the United Nations Framework Convention on Climate Change, which was held in Peru.
Accompanied by Bart Tilkin, an officer of the Volunteer Program of the United Nations, all volunteers were given bookmarks with philosophical messages about volunteering. Phrases as "The most beautiful artwork is being useful to others" (Sophocles), "There is no good that can delight us if we do not share it" (Seneca), "Volunteerism transforms not only our environment but the hearts of those who perform it" (Delia Steinberg Guzman) were part of these small inspirational gifts for volunteers.