Ukraine commemorates World Philosophy Day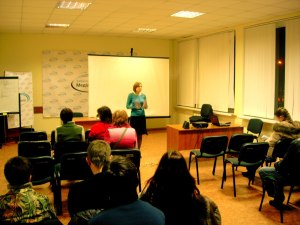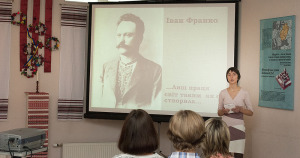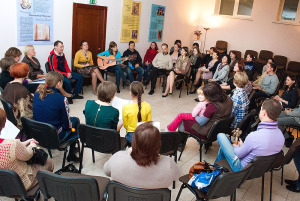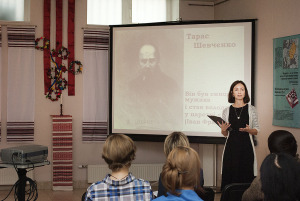 The branches of New Acropolis of Ukraine celebrated World Philosophy Day. This year, Ukrainian philosophy and its contribution to world philosophical thought was the main focus of the World Philosophy Day celebration in Ukraine.
Public lectures, meetings with academics and philosophical readings were held in eight branches of New Acropolis Ukraine. Also, the book What Is Ancient Philosophy? by Pierre Hadot was for the first time translated into Ukrainian and published by New Acropolis Publishing House of Ukraine. The All-Ukrainian Project Video-poems 'In A Word' aiming to popularize Ukrainian poetic culture, was created and presented in all branches of New Acropolis of Ukraine.
Public events and lectures held in the Ukrainian branches of New Acropolis as part of the celebration of World Philosophy Day included:
Kyiv: A meeting with the scientists of Skovoroda Institute of Philosophy of the National Academy of Sciences of Ukraine, Viktor Malakhov, Ph.D., and Tatiana Chaika, Ph.D., on the history of Kyiv philosophical society
• Lecture on Ukrainian philosophy Does Ukraine have its Socrates?
• Lecture on Philosophers of Ancient Ukraine by Sergii Yosypenko, Ph.D., head of the Department of History of Philosophy, Skovoroda Institute of Philosophy
• Lectures and recitals on Ukrainian poetry and music.
Dnipropetrovsk: • Philosophical Cine-Moments – Ukrainian poetic movies of 1960-70-ies directed by Mykolaichuk, Illenko and Paradzhanov
• Lectures on Ukrainian cultural figures: Dmytro Yavornytsky. Knight of Science, Ivan Franko. Ukrainian Aristotle, Mykola Lysenko – the Sun of Ukrainian Music.
Zaporizhia: Ukrainian Cine-Moments
• Lectures on Ukrainian philosophers: Ivan Franko. Ukrainian Aristotle, Hryhorii Skovoroda. Errant Philosopher.
Lviv: Cine-Club Against All Odds
Mykolaiv: Literary and philosophical soiree on the biography and works of Hryhorii Skovoroda.
Odesa: Walking quest Ukrainian Odesa
• Lectures on Ukrainian philosophers: Dmytro Yavornytsky. Knight of Culture, Rules of Life by Hryhorii Skovoroda
• Literary soiree Executed Renaissance.
Poltava: Lecture on Hryhorii Skovoroda. Life-giving Spirit.
Kharkiv: Lecture on the Ukrainian Identity as a Social Construct by Nadiia Korabliova, Ph.D.
• Lecture on Universal Philosophy of Hryhorii Skovoroda and Challenges of the 21st century
• Cine-soiree on Oleksandr Dovzhenko and his Zvenygora.