Philosophical Trilogy II. Love in Plato's 'Banquet' (Zaragoza, Spain)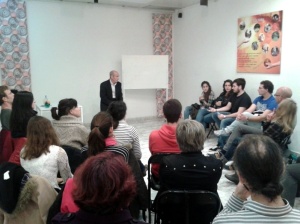 New Acropolis Zaragoza continued with the philosophical trilogy in commemoration of World Philosophy Day, and in this second encounter accomplished this with Plato and Love in the Banquet.
Once more we approach a subject that we love, in the hands of a great Spanish philosopher who has dedicated more than 30 years to the teaching of philosophy in its more practical and vital sense.
Thanks to his words and those of Socrates we brushed against the essence of love in the presence of Diotima who accompanies the great Socrates to explain the secrets of Love. Poros and Penia have left us with Eros, always beautiful and searching for what is missing. You are all invited to read or reread this wonderful book entitled The Banquet. Cheers!