Virtual activities at New Acropolis Portugal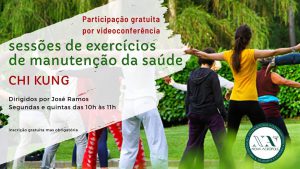 In this time of crisis, when the possibilities of communication and carrying out activities have been
practically reduced to those that can be done "at home", New Acropolis Portugal launched an online series.
These varied activities have included lectures, seminars, martial arts practices, workshops…
A sample of these are the following:
New Acropolis Coimbra has been holding weekly virtual Chi Kung practice sessions led Professor José Ramos, and attended by more than one hundred people.
At New Acropolis Famalicão Isabel Areias gave the virtual seminar entitled: 'Cycles of Sophia. The Art of Knowing Oneself.'  This seminar implemented some of the main tools found in Eastern Philosophy regarding the art of self-knowledge, so essential in times of crisis.
New Acropolis Lisbon offered the virtual lecture entitled: 'Crisis: An opportunity for change', delivered by Cleto Saldanha. The event was attended by a large audience, very interested in the current topic.