Frankl, Jung and Assagioli at the University of Stuttgart (Germany)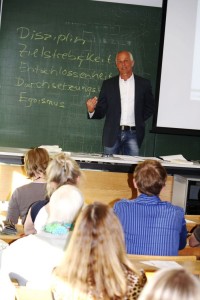 Series of lectures on three philosophers of the 20th century presented by the director of New Acropolis Stuttgart and other lecturers at the University of Stuttgart. Frankl, Jung and Assagioli were doctors who addressed the psychic and spiritual aspects of man.
Assagioli developed Psychosynthesis, in which will plays an essential role. Frankl developed logotherapy: everyone is capable of giving meaning to his life. CG Jung encouraged people to face their inner shadows.
There was also a lively debate about some of the approaches outlined in the presentation and participants concluded that these three philosophers aim to foster the development of the person making her more resistant to impacting life events.